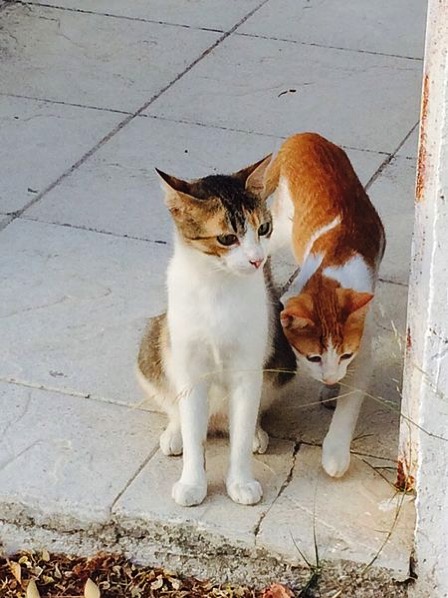 I don't know what it is about the Eastern Mediterranean and cats, but from what I have seen in these parts over the course of my travels, they are more like rodents than cosseted pets. In Greece, stray cats seem to be more plentiful than jobs. They are mangy. They are gross. Worst of all, they freak out my cat-averse daughter.
For the most part, they are harmless. I leave them alone, and they reciprocate. Unfortunately for those of us who are not cat people, some tourists like to feed them. That's when they can become a nuisance. The apartment we rented when we visited Samos had cat food in the kitchen, among other more useful amenities. Clearly the owners were not Greek. This meant the local strays got used to being feed, and they would come purring to our terrace. Fortunately, the Karpathian strays are not as comfortable with tourists. The Vachette freezes and yells "Cat" whenever one comes near us, but they never come too close and go away before she really gets upset.
Something must be going with the stray cats at night. For the past three nights, we've heard some cat fights going on outside. I don't know where they are exactly taking place, but they sound vicious. Though I have not seen any cat corpses in the morning.
(Photo, Greek stray cats on the island Leros, by Colamc, and I must say this photo is more flattering than what they really look like. Because of the Vachette, I cannot get one of the local Karpathian variety. Trust me, they are not attractive.)