Monday was Sechseläuten, a quirky little Zurich holiday. (You can read past posts of mine about Sechseläuten here and here.) Aside from the obvious awesomeness that is blowing up a snowman, Niko and I also love Sechseläuten for the junk food. The parade route is filled with so many kinds of food vendors that we make a point of eating our way through the day. Fitting with an international city, the food options can be quite multicultural with curries, spring rolls, and kebabs, but here are some of the more Germanic ones.
No Zurich street fare would be complete without some form of grilled sausage. The sausages on the right are the local variety, the cervelat. It is not the most vegetarian friendly of street snacks, but you have to love the mustard and ketchup dispensers that resemble udders.
There is plenty for those with a sweet tooth, like gebrannte Mandeln: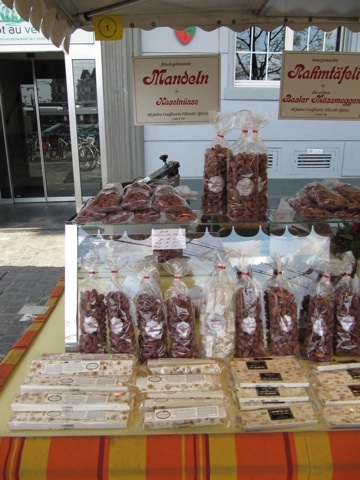 or Lebkuchen:
or Schoggibananen (hey, this is Switzerland. You have to get the chocolate in somewhere):
Personally, I prefer to have savories to munch on, since they go better with beer. I think it's fabulous that there are stands that serve raclette. Mmm, melted cheese that smells like feet:
My favorite Sechseläuten snack is Knoblibrot, which literally means garlic bread.
Rudolf's Knoblibrot is not your mother's garlic bread. They are serious slices of bread covered with a garlic herb butter that has chunks of fresh garlic. It may not be the easiest thing on your breath, but fortunately for me, Niko loves it too. When you order a Knoblibrot, they toast it fresh for you so the bread is crisp with no chance of getting soggy.
En guete!